WHERE: all live music will be here at Donnelly's Pub, and it is hosted by The Brant Parker Band
FEATURES: a different special guest each week.
Saturday Blues Series Special Guests!
Saturday January 14th
Artist: Conor Gains
Saturday January 21st
Artist: Jenie Thai
Saturday January 28th
Artist: Joel Parisien
Saturday February 4th
Artist: John McKinley
Saturday February 11th
Artist: Michael Schatte
Saturday February 18th
Artist: Maria Aurigema
Saturday February 25th
Artist: David Michael Miller and Steve Davis (of Miller and the Other Sinners)
All above shows are a $10 cover.
Every other Sunday afternoon it is our pleasure to welcome back some very important members of our musical family.  As we have moved through Covid many things have come back into our lives, some bringing changes.  A new endeavor presented by Brad Krauss is one of those changes, and it's a great one!  Below is a word from Brad, helping to explain what you'll be missing if you don't pop in for a pint and welcome them back personally!
For the past 12 years I've been playing gigs at Donnelly's Irish Pub.
I started with my friend Max Hillier, playing the Canal Bank shuffle there in the fall of 2010.  Since then I've played a few hundred open mic gigs and a few hundred Saturday blues gigs with Brant Parker.  I've played Chuck Jackson duo gigs there.  I've played Thomas Nelson band gigs. I've played gigs with my own groups, Turnaround (with Ann Singer, Brandon MacPherson and Jeff Luciani), the Brad Krauss Trio/Quartet, and the all star Christmas bands I've had the pleasure to work with since we started an annual Christmas gig, at least 7 years ago.
As times change, so does the music (and the personnel, and the budgets) and I am happy to be bringing a new sound to Donnellys this Sunday featuring the following incredible musicians, playing your favourite R&B standards with fresh interpretation:
Sue Thibert:
A classically trained singer with a musical theatre degree who, after finishing as a top 100 finalist on Canadian idol as a teenager, settled in to a long career at the Oh Canada Eh dinner theatre where she remained until their untimely bankruptcy in 2020.
Thomas Nelson:
Prolific musician, adept at both bass guitar and vocals having performed in clubs across Canada, Europe and the US over the past 40 years. 

Niagara Falls NY USA Music Hall of Fame inductee, who currently leads an all-star R&B band in the Niagara Region (Canada) featuring incomparable Niagara legends Randy Stirtzinger and Graham Lear.
Thomas Reid:
A professional drummer, who trained at top schools across Canada and then extensively toured the world playing the drums before settling in Australia where he worked as a professional musician for 8+ years before returning to Canada.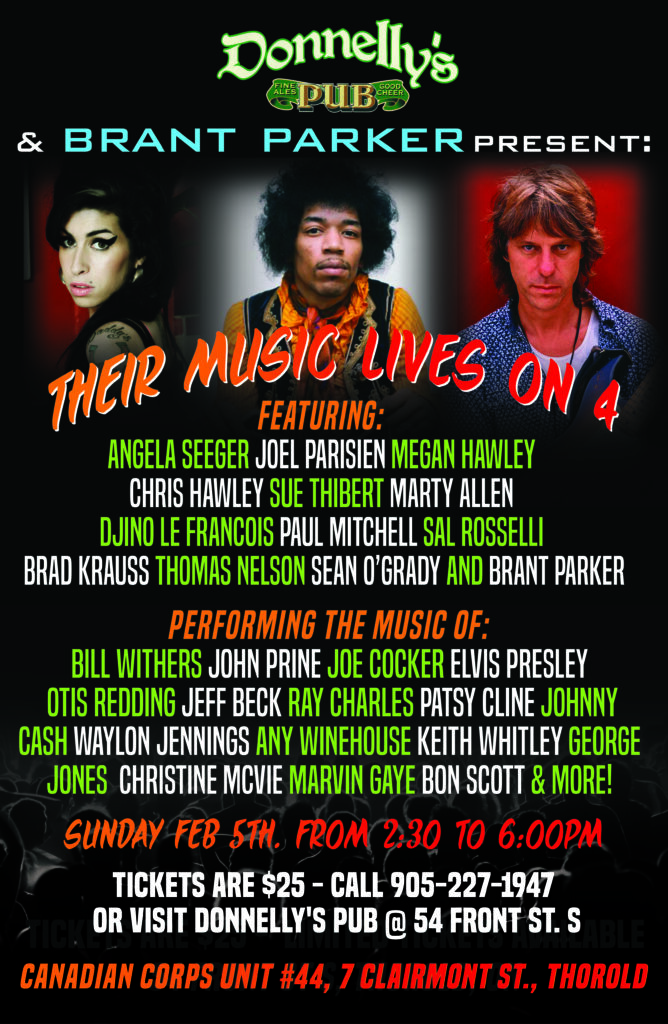 Sunday Feb 5th Donnelly's Pub and Brant Parker present "The Music Lives On" with a wide array of music from artists that have passed . This show will be covering multiple genres and performed by 13 Award winning musicians ! Featuring a full Band with Horn section ! $25 per person.  Show takes place at the Canadian Corps next door, with food available to order through Donnelly's! Call 905 227 1947 or come to Donnelly's Pub in person for tickets . Don't miss out!!